Explore SC Beach Real Estate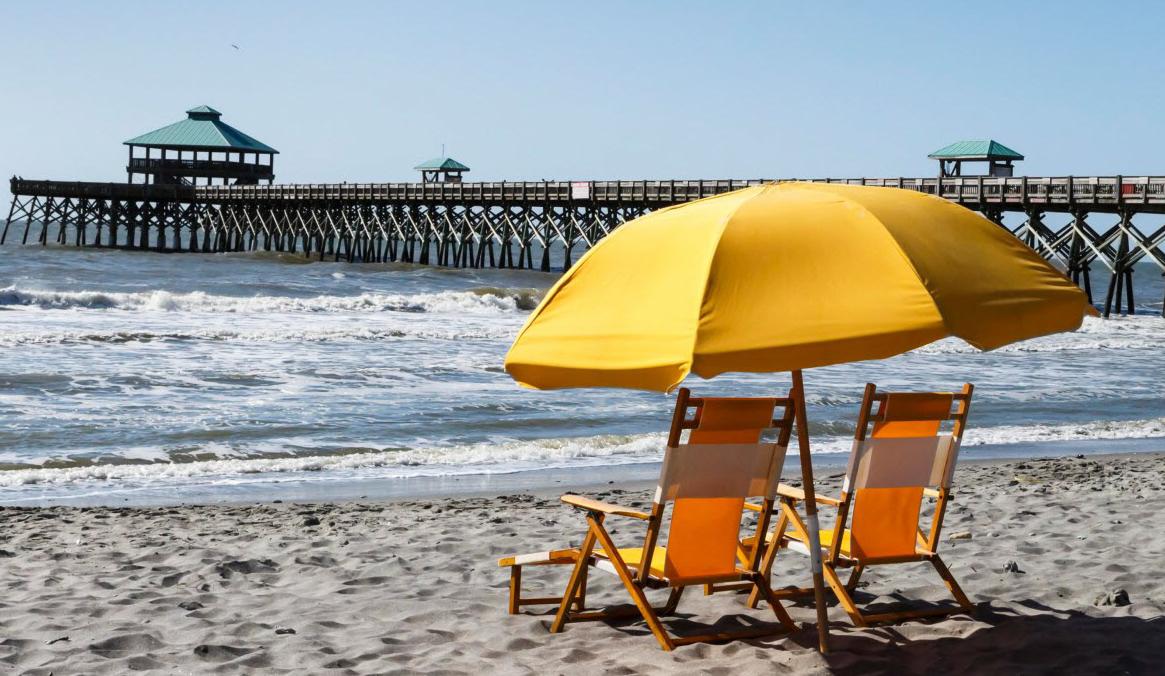 Sullivan's Island
Due south of Mt. Pleasant and across the Intracoastal Waterway, Sullivan's Island is one of Mt. Pleasant's three true barrier islands (Isle of Palms and the private island of Dewees are the other two). Access to the island is via the Ben Sawyer Causeway (S.C. Highway 703) from Mt. Pleasant or via the Isle of Palms Connector (S.C. Highway 517) through the Isle of Palms.

Largely a quiet, residential island of old and new beach houses, the island's 1998 permanent population was about 1,800. There is also a smattering of charming 19th-century "summer homes" that have somehow managed to survive the hurricanes and changing fashions of vacation architecture. The few restaurants and pubs on the island are crowded along Middle Street and create something of a strip for strollers who might want to "pub hop" during the evening hours.

Sullivan's Island is the site of old Fort Moultrie and its accompanying interpretation center, which is operated by the National Park Service. There you can trace the fort's 171-year history from the American Revolution through World War II.

Another interesting by-product of Sullivan's Island's military days is the fine old row of "quarters" (not far from the lighthouse) that date back to World War I. Still standing at attention along a quiet side street is a handsome line of large frame houses that once served as "officers' row" for the garrison at Fort Moultrie. Now private homes, these former examples of elite military housing speak eloquently of another time from the island's (and our country's) past.
View Sullivan's Island homes >


Isle of Palms
As the years have gone by, the Isle of Palms has grown increasingly popular as a resort and residential island. In 1998, the year-round population was about 5,000, but when you add the seasonal renters and the day visitors, the island can host thousands of additional people on any given summer day. Its proximity to Charleston is one of the reasons; its six miles of wide, sparkling beach is another attraction.

Those who are here for the short term can enjoy a wide range of accommodations from one end of the island to the other. And the island has a full complement of shops, restaurants, goods, and services to make life very comfortable on Sullivan's Island.
Wild Dunes
World-famous Wild Dunes resort, at the northeast end of the island, offers fine restaurants, conference facilities, a fitness center, multiple tennis courts, and two championship Tom Fazio-designed golf courses, Wild Dunes is a busy destination all year long. The Wild Dunes Yacht Harbor is one of the finest marinas on the Eastern Seaboard. Maybe best of all, Wild Dunes is still only 15 miles from downtown Charleston, offering visitors the chance to enjoy the best of both worlds.
View Isle of Palms homes >
View Wild Dunes Resort properties >


Folly Beach
This eccentric and diverse beach town--likes to call itself "the edge of America." Only 10 minutes from historic Charleston, Folly Beach is a tourist's world: one where there's plenty to see and do.

Crabbing, sunning, surfing, swimming, surf fishing, biking, waterskiing, and sailing are going on. You name it, Folly Beach has got it. Folly touts its 1,000-foot fishing pier, finished in 1995, complete with snack bar, tackle shop, and full-service seafood restaurant. The pier is reminiscent of the old days when beach pavilions were all the rage for dance bands and swing music.

Although there are walk-throughs along the beach that lead from Arctic and Ashley avenues to the surf for day visitors, it's best to go to the west end of the island and visit Folly Beach County Park. Admission is per vehicle, but once you're inside you've got restrooms, showers, drinking water, ample parking, and probably the best open vistas on the island.

You'll find many reasonable short term accommodations at Folly Beach. There are also seasonal rentals and a lot of interesting full-time residents on the island. It is Charleston's truly original beach playground.

First of all, there's the beach--Folly's claim to fame. It runs almost 6 miles along the Atlantic side of the island. Folly Beach has had serious erosion problems in the past; the beach was "renourished" a few years ago by mechanically pumping millions of cubic yards of sand back onto the shore, and there's talk about needing to do it again. But there's still plenty of sand, sun, fun, and (yes) folly to go around.

View Folly Beach homes >


Kiawah Island
The island has a year-round population of 1,656, according to a 1998 head count. But the population swells enormously on any summer day, when the hoards of beach lovers (young and old) come out to play. Employment opportunities are almost exclusively limited to the tourist trade.

Only 21 miles from Charleston is Kiawah Island, renowned for its natural beauty and environmentally responsible development. The endless acres of marsh, the 10 miles of pristine Atlantic beach, the thick forests, and abundant wildlife are only the beginning. Amongst all this are championship golf, first-rate tennis, exclusive shopping, and fine dining. Like the beach itself, the opportunities for enjoyment on Kiawah go on and on.

Golfers have a selection of courses to play. They can choose from Turtle Point by Jack Nicklaus, Cougar Point by Gary Player, Tom Fazio's Osprey Point, and the famed Ocean Course by Pete Dye (site of the memorable 1991 Ryder Cup). In November 1997, the Ocean Course hosted the 43rd World Cup of Golf with teams from 32 nations competing. Televised in more than 80 countries, this was the world's most watched golf tournament to date. On Kiawah, tennis buffs have two complete tennis centers with fully staffed pro shops, extensive instructional facilities, and a zoned practice court with an automated ball machine.

The island's accommodations are all outstanding. Some guests prefer being pampered at the Sanctuary Hotel. Others prefer the privacy of furnished villas or cottages conveniently scattered around the island. Bear in mind that Kiawah Island is a private community with access limited to property owners, guests of the resort or designated rental agencies. Full-time residents number 1,007 according to a 1998 survey, but seasonal visitors swell this number to more than 7,000. Public access to the beach is available at Beachwalker County Park at the west end of Kiawah Island.

View Kiawah Island homes >


Seabrook Island
Seabrook Island is on the Atlantic shore just 22 miles south of Charleston. It is unique in that it is totally private and completely owned by its residents. Entry to the island is controlled by a security gate for the privacy of residents and guests. The beauty of the island is striking. Visitors can enjoy 3.5 miles of unspoiled beach along the Atlantic and the banks of the Edisto River, which flows into the ocean at Seabrook.

The Club at Seabrook offers championship golf courses: Crooked Oaks, designed by Robert Trent Jones Sr., and Ocean Winds, designed by Willard Byrd. A beach club, a tennis center, and a beautiful Island House Club with restaurants, bar lounges, and a golf pro shop are here. Also unique to Seabrook is its equestrian center.
Seabrook Island has more than 450 villas available for rent as well as more than 1,055 permanent residents whose homes are situated along the beach, marshes, lakes, and golf courses.Bohicket Marina, just outside the Seabrook Island gate, is a superb marina and an attractive shopping area. Two hundred slips are available for all sizes of motor cruisers and sailboats. Boat rentals and charters for deep-sea fishing, crabbing, shrimping, or exploring the miles of ocean creeks are also available.

View Seabrook Island Homes >


Discover Edisto Beach

Edisto Island
View Edisto Beach homes >

Beautiful and secluded Edisto Island is located approximately 45 miles (72 km) south of Charleston. Visitors to Edisto feel they've returned to a simpler time and slower pace of life. While the island welcomes visitors, commercialization and development have been kept to a minimum. Edisto Island is steeped in a history that stretches back to its first known inhabitants, the Edistow Indians. By the late 1700's English planters had developed Sea Island cotton, the crop that brought wealth to the island.

Many of the beautiful plantations built during this era are still standing, and are listed on the National Register of Historic Places. Today, Edisto Island is best known as a quiet, family beach. Edisto Island offers the conveniences of a marina, golf course and restaurants. Accommodations on Edisto consist of beach homes available for rent, condominiums overlooking the golf course or marina and camp sites at the Edisto Island State Park. If you're looking for historic charm, a secluded beach and an unhurried pace, look no further than Edisto Island and its glorious beach.

---
Edisto Beach Homes || Folly Beach Homes | Isle of Palms Homes | Sullivans Island Homes | Seabrook Island Homes | Kiawah Island Homes | Wild Dunes Homes